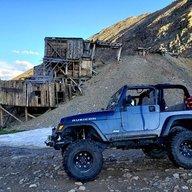 Release the Kraken
Supporting Member
Joined

Mar 26, 2018
Messages

1,226
Location
If I decide to move forward I will double check that!
It could also be as something as simple as the wiring connection on top of the transfer case is loose or knocked off. If you can move it to 4lo you will know as soon as you touch the gas if it's in that low gear. You can hear and feel it.
Also $8k is a deal, it may not feel like it but these jeeps are getting harder to find undamaged, and a whole new generation of buyers (mine, born 87) are beginning to buy up their childhood cars. I definitely remember having the 03 Rubicon poster on my wall. I bought my 03 rubi for 13.5 just over a year ago.