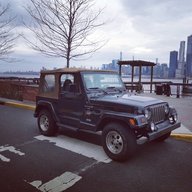 Joined

Mar 11, 2020
Messages

15
Location
Greetings from the birthplace of Baseball & Sinatra!!!
I picked up my first Jeep yesterday, a 1997 TJ (Sahara) with 180k on it. I've been looking for a Wrangler for about a year now and I did a decent amount of research so I somewhat knew what to look for. This beauty is originally from NY and had 1 owner prior to the guy I bought it from who had it only a few months. Turns out the body and tub are somehow in fantastic shape for it's age (fenders, floorboards, rockers all solid) but the frame is in pretty bad shape - especially on the drivers side.
I knew going into this I would have a major repair on my hands right out the gate, but the price was right and with the condition outside the frame I couldn't pass it up. However, now I find myself in need of a welder who's had some experience in repairing these things. I figure I'd source the parts needed from Pocono (spoke with them today). I'd like to do the drivers side ASAP as I believe I can get away with the passenger side as-is for another year (it's in much better shape).
Can anyone recommend a shop here in NJ/NY that can handle this for me and not whack me over the head on price? I've attached pics of the rot
All input is appreciated. Thanks in advance!!!
-JT