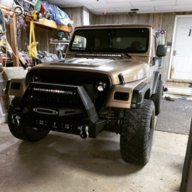 TJ Enthusiast
Supporting Member
Joined

Jul 5, 2019
Messages

153
Location
A couple months ago I dyed my oem carpet black. It turned out pretty well and seems that it's going to hold up well but 20 years of use on the carpet has taken it's toll on the actual fibers, so I'm opting to change all of it out. I just really can't decide what to do and hopefully someone with some experience with each can give me a little insight.

How's the sound with bedtread and bedrug? I had a yj that I bedlined the interior of absolutely hated the resulting noise and drone in the cab along with the heat it failed to keep out. I don't know if either do well as insulation.

If I'm doing carpet I'll do the ultra plush Essex with mass backing will it have the same durability as oe carpet? (Stockinteriors.com was the one that I've been looking at if anyone knows any others they like I'd take that into consideration)

Any other input anyone has would be appreciated.