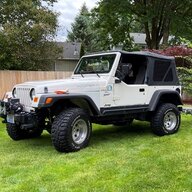 Joined

Aug 21, 2018
Messages

89
Location
Anyone remember working on these in the Army? I joined in 1982 as a 63W Wheeled Vehicle Mechanic and spent my fair share under one. I once rode shotgun in one from Grafenwöhr, to Baumholder Germany, in October, with no doors and no top, on the autobahn, zipped up in a sleeping bag. Driver too. Got some pretty crazy looks.
To set the toe-in, we would get a special "tool" from the tool room. It was springy, like a shower curtain rod, and you would wedge it between the front tires at the center rear position. You would then roll the Jeep backwards until it was at the center front position. There was a slider gauge, and you would read the difference. I would think it would work well on the TJ's, but have never been able to find one.
Anyone remember this?