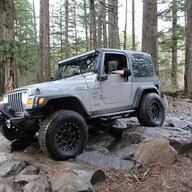 Joined

Jan 24, 2021
Messages

15
Location
My transfer case blew up while I was out wheeling at Walker Valley in WA. I'm pretty sure it skipped a tooth due to 4low not fully being engaged. Sounds like a box of marbles with every rotation. I couldn't shift it into anything besides 4low and neutral.

Literally at the same time, my slave cylinder hose cracked and I lost my clutch because I lost all fluid and pressure.


So I had to get flat towed about 25 miles on forest service roads. We went slow, 15-20mph.

I ASSUMED, manual trans in neutral, tcase in neutral. I had no service, I couldn't google it. I see now that is wrong, due to lubrication issues.

Is my NV3550 going to be toast after that short of a distance? It was making zero noise when I coasted it onto the trailer yesterday- no trans bearing noises, so nothing seems to be blown or angry. Thoughts?


I just trailered it home, going to rebuild the Tcase/think about an Atlas.
Last edited: