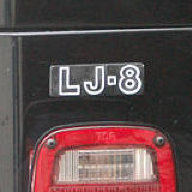 TJ Enthusiast
Supporting Member
Joined

Feb 13, 2020
Messages

807
Location
Mahindra has been making Jeeps/jeeps in India since the 1940's. I use the word Jeeps with and without the initial capital because in the beginning Mahindra assembled CKD Jeeps (completely knocked down) shipped from the Jeep factory in Toledo (capital J Jeeps) but over the years they've included more local parts in the assembled Jeeps and created many new models (lower case j) that never were available in the U.S., for example, this CJ-styled pickup.
I've been in India for a few weeks now (a combination of business and pleasure) and have a road trip to Rajasthan planned (the western desert state that borders Pakistan). I rented a current model Mahindra Thar for the trip. The current Thar (BTW named for the Thar Desert, which straddles the Indo/Pak border) looks a lot like the JL 2dr (and 4-door is expected soon), but it's completely engineered in India and has no parts in common with the Wrangler.
This is my rental Thar. It's a 2021 model, a diesel, and it's got a few of the higher end options making it roughly the equivalent of a Sahara model JK or JL - power windows, power mirrors, upgraded wheels and tires, automatic trans (my preference for New Delhi traffic!), A/C, bluetooth, cruise control. This one has been well used, it's got 111,000 kms on the clock (68,000 miles).
The tires are 255/65R18's, which works out to about 31".
I've been driving it locally in New Delhi, and leaving tomorrow for Jaipur in Rajasthan. My initial driving impressions:
The Thar is a very tight vehicle. While I haven't driven it off-road (yet), I did drive it on some very rough roads and it's very tight, no rattles or any sense of flex. The diesel is very quiet and even up close you might not know it's a diesel. It's also very responsive - acceleration is excellent. Seats are comfortable and driving position is very good. Acceleration in Delhi traffic is plenty to deal with the driving conditions here.
The controls are well organized and other than me regularly activating the wipers when I wanted to do the turn signals (it's RHD and the stalks are on the opposite sides), I felt right at home.
The curb weight of the Thar is 3858 lbs. The weight of a JK 2dr ranges from 3759 (soft top) to 4262 lbs (hardtop plus other options?) so I'll say the JK 2dr outweighs the Thar by about 400 lb. The Thar diesel is rated at 150bhp while the JK v6 gas engine is rated at 268 hp., but in spite of that the Thar feels very peppy. Probably this is due to the standard 4.56 axle ratios of the Thar vs. the 3.07 or 3.55 ratios that come stock in the JK. You would think 4.56 with 31" tires would be the wrong gearing for highway use but with highway speeds in India being a bit lower than in the U.S. it's not an issue.
On the road in India, the Thar is just about perfect. It's solid and deals with rough roads very well and it's got appropriate power and pickup for typical driving conditions here. I'd say they got it right.
A photo from the instrument panel. That translates to 31.5 mpg. So far, all around-town driving. Way more than any of my Jeeps ever could do.
If I were to give up on the U.S. and move to India, a new Thar would definitely be my daily driver, although I might wait until the 5-door Thar comes out, rumored to be next year.
This is the previous model Thar, it was produced until 2020, I took this photo in New Delhi:
Another example, I took this photo last week in Mysore in south India:
The Forward Control was discontinued in the U.S. in 1965 but was in production in India until 1999. The one above is in the service of the City of Mysore, it was trimming trees over the road when I photographed it.
BTW for a few years now I've been considering importing a Mahindra Savari to the U.S., with its extra length and inside room I think it would make a great platform for overlanding/camping.
I've been visiting and working in India since the 90's and during that time I've collected many photos of the various Mahindra jeep models. The range of models is fascinating and I expect many of them would have sold well in the U.S. I could post more if people are interested.