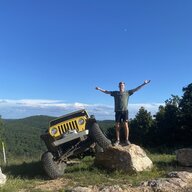 Joined

Jan 15, 2020
Messages

187
Location
My DD is a '99 4.0 manual TJ. Just curious if any actually shifts according to the indicator on the instrument panel? I find that I can't even get up to speed with the flow of traffic if I do!
Funny that you ask this. I'm actually currently doing a little experiment to see just how much improvement in fuel mileage I'll see from obeying the shift indicator for a whole tank of gas. Keep in mind, I have 4.11 final drive and 31.5" tires (not too far from stock), and I'm seeing an average of 15 mpg city driving.
So far I've noticed that the indicator tries to keep RPMs as low as 1300 if I'm not trying to accelerate at all. It's moved my shift point about a whole 10 mph lower from how I usually drive. I'm eager (and probably a bit too optimistic
) to see the results next time I fill up and calculate fuel mileage. And I'll be sure to update the thread with my findings.