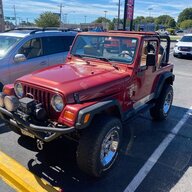 Joined

Dec 12, 2022
Messages

58
Location
Just got a 99 2.5 TJ with 160,000 miles. I'm pretty sure the previous owner was pretty hard on it. Baja BF Goodrich tires, lots of mud, small lift, winch, previous owner is a younger driver.
It's hard to get it into any gear. Reverse and First in particular. When I
think
I'm in reverse, I often discover I am not when I release the clutch while accelerating. Same thing with First gear--as I release the clutch and attempt to accelerate, I discover it is still in neutral.
Also, it wants to grind going into second, unless I slam it pretty hard into second.
I've never replaced a clutch, (or removed a transmission for that matter), but I'm feeling up to it!
Should I first just try a fluid flush (never done that either). Should I try an additive in the transmission fluid before I rip the thing apart?