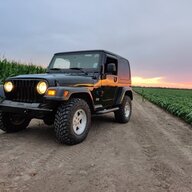 You say watch for rust? What's That?🤣
Supporting Member
Here are a few specs and pics of my new to me jeep.
2004 Jeep Wrangler Sahara
4.0l , automatic transmission
Dana 30 front , Dana 44 rear
141,000 mi , 2" block lift
31-10.5-15 mud tires
This my first vehicle and I love it (had it about 3 months) aways liked Jeep's aways will.
I'm from Louisiana in the Mississippi River dalta where the biggest "mountain" is the Mississippi River levee and 80% of the people either are a farmer or work for one.
Last edited: