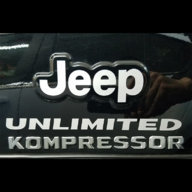 TJ Enthusiast
Supporting Member
Joined

Oct 25, 2018
Messages

298
Location
Yes, the Jamboree can get people through to Rubicon Springs in one day. although many people do stop and camp at Buck Island (they have a repair location there, as well as at Rubicon Springs). Keep in mind they meet just after dawn in Georgetown to start... Lots of guys leave their rigs parked in the middle of the street the night before.
My wife often gets out and walks the more difficult parts of trails. She's actually become quite a good spotter after watching other spotters and seeing me and others go up trails. The Jeepers Jamboree will have hundreds of Jeeps on the trail, so all the difficult spots have waiting lines (that's why they blew up the Gatekeeper years ago - it was causing too much of a backup). Plenty of time for your passengers to get out and walk.
As for packing, the higher up on the Jeep, the lighter the load should be. On my rig, I had the sleeping bags, tent, and other bulky but lightweight stuff in the top rack, with heavier stuff in the lower rack.
I've seen people do the Rubicon with little off-road trailers, but I would not recommend it unless you are very experienced at that type of thing. Definitely not for a first-timer.
That was good advice to put the people you want to take in your Jeep and spend a day at Hollister. Riding in the back seat of a TJ for long periods, especially when rock climbing, can get pretty uncomfortable. It can be done, but once you start the Rubicon, it's not easy to get off, you're pretty much there for the duration. It's nice to bring friends, but you want them to still be friends at the end.