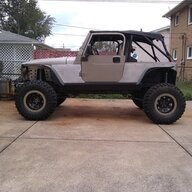 simple guy
Lifetime Supporting Member
Joined

Nov 17, 2019
Messages

4,805
Location
i had sure hoped this wasn't gonna turn into what it's turned into. i think this MMW guy might have bittin off more than he thought. seems to me like "i can do this and make a few bucks" turned into i have to make 200 of these things like right now.
i haven't seen a single 205 posted up complete yet, those were supposed to be in the works months ago. i think this guy got buried in work real quick and he's still tryin to sort this mess while dreaming of adding more products.

then the cost jumped up right in line with Behemoth.............this what what set them aside from Behe, this is what brought those orders in and now your right on scale with their prices but not the manufacturing or support. not good IMO, people might wait 2 months to save 600$, they won't be patient paying the same but waiting longer and we are startin to see this.

TBH i'd support a small owner operated business b4 a corporate structured 1, but if the moneys just about equal now, the games changed into delivery and service times..........and he's not able to compete at that level.

i know it's kinda dumb .....few hundred $, but i work for every penny i make. but i'da bought a case for 1200, maybe..........i won't even consider it for 1800$.
same with my bumper guards they used to be 85$ now you want 139$......i was on the fence b4 .......shove them up your ass now. 1/2 the country went lazy and wants to be paid double for it, i won't support that.
Last edited: