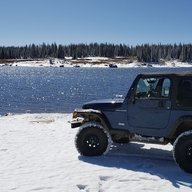 Joined

Jan 21, 2019
Messages

138
Location
Just wanted to share my experience with my 33x12.5r15 Milestar Patagonias, as I recently had them re-balanced and rotated. I bought them right around 1 year ago, and have now put about 14,500 miles on them. Overall I am still decently happy with them, but I do have a couple caveats. I am by no means a tire expert or anything, but do have experience with MTRs W/Kevlar, Duratracs, and Ko2's.

Offroad: As far as offroad performance is concerned, these things are still awesome. Hook up excellent in just about anything. The soft tread compound grips very well on rock, while the bigger voids lend itself well to softer conditions. I have never had a puncture in them, and the rugged sidewall molding grips very well. I run them on 15x8 steel wheels at around 12-14 psi offroad, and they are super comfortable. I don't necessarily look for mud, but going through muddy, slippery portions of a trail, they perform better in the mud than Duratracs, and much better than Ko2's. There are no signs of chunking or splitting of the tread blocks as of yet, just a slight rounding of the corners.

On Road Performance: Overall very decent. Good in snow, ice, gravel, and of course pavement. I do feel like they hydroplane a bit more than Duratracs do, and don't quiet perform as well on hard packed snow; this is probably a function of the the bigger tread blocks and less "edges" to the tread, if that makes sense. My Jeep has a wandering issue, but I don't think that it is related to the tires.

On Road Comfort: When I first got the tires, I was super happy with the comfort. Super smooth and quiet on the highway. However, this stance has changed a bit. Now that they've worn down some, there is definitely more road noise- not as much as my old MTR's however, but definitely enough to notice and more than my Duratrac's have had. I have also noticed some weird wear characteristics. This is somewhat subjective, but I don't quite feel like they ride as smoothly as they once did. There is also some light cupping on 1 one of them, not sure if that's the Discount tire's balancing fault or the tires themselves. I'm considering putting in some balancing beads to provide a sort of dynamic balance that will stay as the tire wears down, as I haven't had the best of luck with Discount. Recently, I had them road force balanced at a Discount tire, and the employee stated that they were "hard" to balance, whatever that means. I will say that they still ride much better than the Goodyear Mtr w/Kevlar I had on previously as far as bumpyness, but then again, the MTRs I had on were on 16 inch rims and were E-load rated; so maybe it isn't a super fair comparison.

Longevity: Now this is where I'm seeing the biggest red flag with these tires. At my recent tire rotation, the tread depth measured 12/32 of an inch, meaning the tires have worn down about 7/32 in 15,000 miles from the 19/32 that they came with. Now, assuming that tread wear is linear, this would mean that at if they continue at the rate they have now and I replace them at 4/32 left, I can only expect to get about 30,000 miles from them. I guess it is somewhat to be expected, however, as they are somewhat more of a mud terrain than a typical hybrid, and they do have a very soft tread compound, which is in part why they perform so well off road.

All in all, I'm happy with how they have performed, but I'm definitely looking for something different when my next tire change comes around. If I had more of a trail dedicated rig or a trailer queen, the Milestars would certainly be a great option, but my TJ is also my daily driver. Due to their shorter tread life and comparatively worse on-road characteristics, I think I'll give up the slight edge in off-road performance and go to Duratracs or Ko2s next time around, or maybe even try something completely different. Though the low price was definitely a huge factor in me buying them, when you look at the wear as compared to a Duratrac which may last 50,000+ miles, it makes much more sense to spend an extra 60-80 dollars for a tire which will nearly doubly as long.