My TJ
2005 Wrangler "X" Rocky Mountain Edition, Bright Silver
Manual 6 speed, factory Dana 44 rear axle (3.73)
Purchased April 2018, 102k miles, clean Carfax with near complete maintenance records.
Everything stock except for Quadratec bolt on nerf bars, Quadratec mats, and Bilstein 5100 shocks.
My Story
Hi, I am from the Toledo, Ohio area, the hometown of Jeep and Dana\Spicer, aka the Glass City...also home of the Toledo Rockets (UT is my alma mater), Mud Hens, Walleye, Jamie Farr, Tony Packo's etc.
Not too long ago, our community finished celebrating 75 years of Jeep in Toledo.
from http://www.toledoblade.com/75-years-of-jeep:
"The Jeep won World War II. It saved nations. It was part of the rescue of France, of the Philippines. The Jeep vehicle was that important. And in peace times, it's saved a lot of companies as well," said Patrick Foster, an automotive historian and author of Jeep: The History of America's Greatest Vehicle. "I think it's gotta be one of the two or three most important brands in the world." Here in Toledo, the hometown of Jeep, you're unlikely to find anyone willing to dispute that.
After moving to Toledo and spending 3 decades here, I have always wanted to buy a Wrangler. This was especially true as I grew older and could better appreciate the heritage, as well as the role Jeep plays in the lifeblood of our city. I always brushed it aside because they weren't practical for me. However, over the past few years, the want to own a Wrangler had developed into a need. And, meanwhile, we had been thinking about and seriously considering moving out West in 5 years. I grew up in Tucson, AZ during my childhood years, often riding on dirt bikes and in the back of 4x4's through the desert terrain. This was all before my long stint in Ohio. If I were to ever leave the Toledo area, I would want to take "a piece of Toledo" with me. What better way for me to accomplish this than buy a Wrangler made in Toledo? And what would be nice to own when we finally get back out West? Yeah, I like this idea!
About a year ago, I was considering buying myself a new JLU. I particularly was interested in the upcoming turbo 4 or diesel when they finally came out for better fuel economy. But, holy hell, it sounded like even the turbo 4 (a 48 volt mild hybrid eTorque engine) was going to be quite a bit more expensive than the standard V6 Pentastar models. This meant I would probably need to sell my other car, a 300 WHP 2015 VW Golf that I have put much time and $ into. Beyond being fun the drive, the Golf also has comfy heated seats, good road manners, and great fuel economy when we want to take longer trips. I soon decided that just owning a Jeep as a DD was still probably not an ideal situation for me.
Sigh...what to do now. I still could not get owning a Wrangler out of my head. While not entirely practical as a first and only vehicle, a less expensive used Wrangler as a 2nd vehicle was suddenly very appealing. Then, I could drive it as much or as little as I wanted. I started researching all the Wrangler generations. While the JK's had more space and modern amenities, and the older YJ's had their allure, of course I fell in love with the handsomely classic TJ! The TJ is the "Goldilocks" of all Wranglers with the smaller footprint, proper round headlights, coil suspension, and just enough amenities
The last of the real Jeeps some will say.
As I did my TJ research, I recalled this wasn't my first run-in with a TJ. My first TJ experience was a rental in Moab, Utah back in 2002. It was a nice yellow one with a manual transmission from Farabee's Jeep rentals (if you can help to identify the year, let me know). The wife and I did the Shafer Trail through Canyonlands and up through the side of the cliffs to Deadhorse, and then back down. When we arrived back at the rental place after the awesome experience, I told the Dutch owner it was more challenging and dangerous than we expected. Only then did he share that many have died on the trail, and that just recently (back in '02) a couple Germans visiting had died in one of his rentals by sliding off the cliffs...the ones we had just been sliding around on!
Needless to say, Moab is a magical place. We've been there twice...I hope the third time is the charm and I will be in my own TJ! Here is the Moab rental, plus a bonus pic of our visit to Arches NP back in 2002. My wife is the tiny person at the bottom!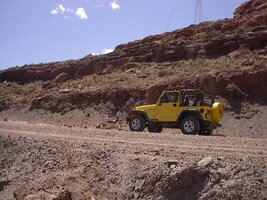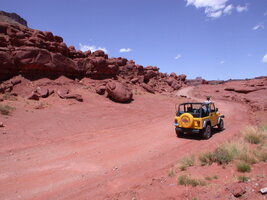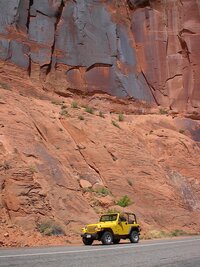 Well, on May 23 of 2018, I finally did it. Holy Toledo! I bought a 2005 TJ X RME with a Dana 44 rear end. A 13 year old Jeep, but in very good condition. I paid a tad bit more than I originally wanted, but it was hard to find a clean, unmolested subject in my area like this one.
It doesn't seem right to call this a build thread, since I really am not building anything, just assembling parts, and sometimes with the help of others. Anyhow, we'll track the progress here…
Purchase Day Pics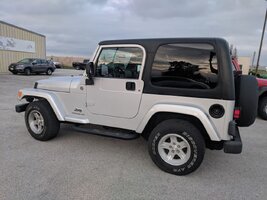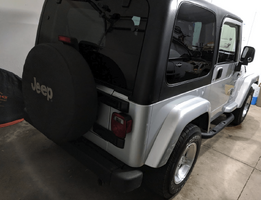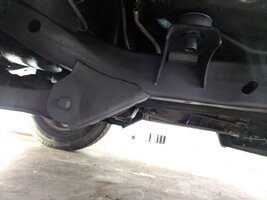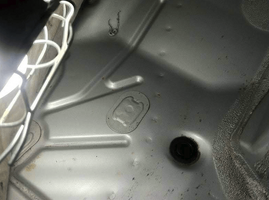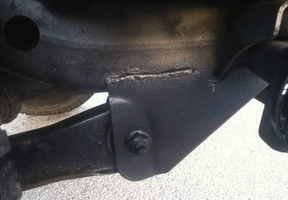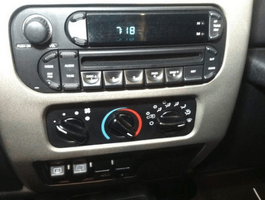 More to come to catch up with what has transpired since...