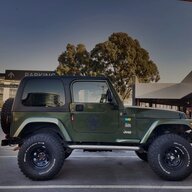 Joined

May 26, 2020
Messages

32
Location
I was watching a video the other night on TJ ride comfort improvements and one of the things mentioned was re-drilling the LCA mounting point lower in the bracket to flatten out the LCA angle
Now I realise this would change the anti-squat....from my understanding this would LOWER the anti-squat value, everything else staying the same.
I'm on a short arm RE 3.5inch lift with very little added weight, stock rear bumper, soft top, nothing added in the back, so I believe you get more like 4" of lift with those springs. Short arm 4inch would raise the anti-squat quite a bit from stock. Wouldn't re-drilling the mounts and lowering Anti-Squat be a good idea in this case?
For a while now I've felt like the jeep bounces/lurches if I'm on the gas and go over a small bump in the road. I was chasing play in the driveline for this (and coming up empty), but I'm thinking now it might be excessive anti-squat doing this?