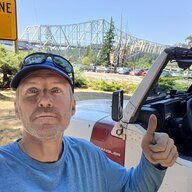 I break sh!t
Supporting Member
Joined

Jul 24, 2021
Messages

1,357
Location
So I've struggled a bit with Alternator issues... original issue was probably a loose bolt in the milspec battery lug... replacement 135a alternator burned up the positive side of the rectifier bridge...this weekend we went out snow wheeling and ended up double sticking both vehicles in deep snow. Freezing temperatures. Took about three hours of winching, shoveling, recovery ropes...had the jack out shoving snow under tires.
At one point running the winch the voltage on the dash dropped to zero and check gauges flashed on. I'm trying to run my 97 TJ 4.0 AX15 around 2k RPM to get the alternator voltage up. I have a hated Optima yellow top...about 1.5 years old.
So one answer is the battery isn't doing what it should...
Had a thought of moving the winch from the milspec lugs (where everything else is attached) to the side lugs in an attempt to isolate things a bit. Although something tells me internally in the battery both the top and side lugs are probably bussed together.
Thoughts?
(YouTube thumbnail and editing the footage.)
-Mac