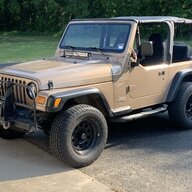 TJ Enthusiast
Supporting Member
Joined

Mar 31, 2023
Messages

145
Location
PO installed a multi function switch in the dash that is causing a battery drain so that my battery is completely dead after a couple of days of not starting the Jeep.
It is ran directly to battery terminals so I disconnected it for now but want to keep it because it controls a LED bar light on the front. It also has a connection for cell phone charging cable.
How can I reconnect it so that it only has power when Jeep is running?
I don't necessarily like the switch but PO carved it into the dash so I am stuck with it.
Thanks