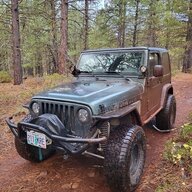 Joined

Jul 17, 2022
Messages

6
Location
Ok so I'm in need of some help here
I have been a mechanic for awhile and know quite a bit about vehicles and equipment. But I am still a young buck and still learning. Especially when I comes to my jeep. It's a 2004 jeep wrangler sport with 4.0l 4 wheel drive auto. This is my first jeep I have ever owned and I love the thing. It's got 35 falken wild peak tire and a 4 inch lift.
The other day it started to have a low vibration coming from the front axle like a hub bearing is going out. The front differential has a clicking nose that you can only hear on the driver side. And I know for a fact that it is not the death wobble cuase that only happens between 40 and 45 mph then goes away.
I do know that I have a u joint going bad cause I start off from a dead stop it vibrates bad.
This jeep is my only vehicle and my daily.
I could use some help with parts and a better set of axles for it. I would like a balance of highway and off road.
Any help would be much appreciated.