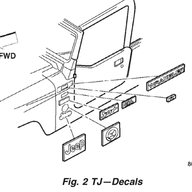 2002 TJ
Supporting Member
Joined

May 29, 2022
Messages

4
Location
Hello, I am new to the form and excited to spend time on here as I begin to work on my Jeep. This is my first post. Quick story, I bought a 2002 TJ in 2007 when I was in high school and it was my daily driver until 2019 when it was hit by another car. The damage was not so bad but the insurance company gave me a check so I decided to keep the car and work on it.
Now, a few years later, I finally have some time and a place to do some work. I am generally mechanically inclined (mech. engineer day job and school) but I am learning more about working on cars, what better place to start then my beloved 2002 TJ. I just crossed 100,000 miles last week. I am the second owner.
I have begun working on some low hanging fruit and will work on larger projects as time goes on with the help of my friend who is a mechanic.
One of the things I have noticed off the bat is a mystery wire that seems to have been added at some point. It runs from the positive side of the fusebox and connects to a relay behind the glove box. My hunch is it is for the blower, perhaps on a repair I can't remember. I never really had any electrical accessories to the car except a radio.
The wire has an inline 30amp fuse that looks like it blew years ago. Anyone have any indication on why this wire is here and what it may be going? I'd like to remove it, I think. It starts at the fusebox, goes through the body and joins in with this red wire green stripe on a relay.