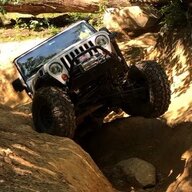 TJ Enthusiast
Supporting Member
Joined

Jul 1, 2021
Messages

277
Location
Lawyers, guns and money.

The biggest problem is finding some longer wheel studs or even any wheel studs in this neck of the woods-

We're going to get whatever we can get and some open Lugnuts and see how it goes

Part of the problem with aftermarket axles is you have a bout 5/16 of the stud that is tapered so you loose threads and in addition to that the Rubicon rear studs are just barely long enough- With stock wheels. With aftermarket wheels and you can get in trouble real quick.
I haven't heard about this. I have been running a Rubi rear housing with 33 spline Chromo shafts for 10 years or so. Have I just been really lucky? How long should the studs be?