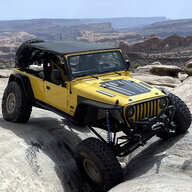 I miss the snow...
Ride of the Month Winner
Lifetime Supporting Member
Joined

Sep 3, 2020
Messages

5,786
Location
I am new to
wranglertjforum.com
, but not new to Jeep's or forums in general. I've spent a good bit of time over on..., well..., let's just call it
thatotherjeepforum.com
. Lately though, it's become more and more quiet with not nearly the activity as when I joined many years ago. Come to find out, a lot of my old virtual buddys have come over here. I was introduced to this forum by a good virtual buddy,
@TheBoogieman
, and after spending a few weeks here, I've noticed quite a bit more activity, and I've seen many of my buds from back in the day.
It's hard leaving behind a build thread covering many years, over 2,500 posts, and about a quarter million views, but this seems to be the place to be. So after a little prodding from my buddy Rick (
@Wildman
) I'll start off this thread as a bit of an introduction, a quick summary of what I've done to the rig over the past fifteen years, and new mods going forward.
First, a bit of background. My current rig is a 2004 wrangler unlimited which I bought new back in 2005. This is my 4th Jeep. My first vehicle was a 1971 CJ5, with the 225 Buick Dauntless, Odd Fire V6. It would pull the front wheels off the ground going forward - and pull the side wheels off the ground going around a corner. It was a death trap - but you don't know that when you are 16.
And here it is - my sister always called me a Jeep Creep - so the name stuck. Since this rig, I've owned a 1982 CJ7 Laredo, and a couple of Cherokees. But I had been out of Jeeps for a while, before deciding to get back into it with my current rig.
On thing I should definitely have done over at that other forum was to create an index to more easily locate my projects. It got so big that I was having trouble locating things, so I will take that as a lesson learned and create and try to keep up an index here on this first post.
Introduction - - - - - - - - - - - - - - - - - - - - - - - - Post #1
Summary of First Mods - - - - - - - - - - - - - - - Post #4
Coilover Suspension Summary - - - - - - - - - Post #6
Moab Shots - - - - - - - - - - - - - - - - - - - - - - - - Post #15
Supercharged I6 - - - - - - - - - - - - - - - - - - - - Post #33
392 Hemi - - - - - - - - - - - - - - - - - - - - - - - - - - Post # 36
Hemi Exhaust - - - - - - - - - - - - - - - - - - - - - - Post #40
Hood Louvers - - - - - - - - - - - - - - - - - - - - - - Post #42
Cowl Intake - - - - - - - - - - - - - - - - - - - - - - - - Post $45
Dyno Testing - - - - - - - - - - - - - - - - - - - - - - - Post #47
Swag Off Road Body Mounts- - - - - - - - - - - Post # 64
Custom Console Considerations - - - - - - - Post #95
Team Hunt's Overlander Ladder - - - - - - - Post #114
Trailer WIring Plug - - - - - - - - - - - - - - - - - - Post #127
My Grandson - LJ - - - - - - - - - - - - - - - - - - - Post #131
Smoked Pro Rock 60- - - - - - - - - - - - - - - - - Post 135
Pro Rock 60 R&P and ARB Repair - - - - - - - Post #140
Pinion Wrench Tool - - - - - - - - - - - - - - - - - Post #167
Turkey Carving Tool - - - - - - - - - - - - - - - - - Post #181
Jeep Toy Box- - - - - - - - - - - - - - - - - - - - - - - Post #196
Final Pro Rock Gear Pattern - - - - - - - - - - - Post #247
Shaved 14 Bolt Rear Axle - — - - - - - - - - - - Post #254
Shaved 14 Bolt - Take 2 - - - - - - - - - - - - - - Post #293
Straightening the 14 Bolt - - - - - - - - - - - - - Post #337
14 Bolt Truss - - - - - - - - - - - - - - - - - - - - - - Post #350
14 Bolt Gear Setup - - - - - - - - - - - - - - - - - - Post #403
14 Bolt / Pro Rock 60 Side by Side - - - - - - Post #447
Gas Tank Lift and Tuck - - - - - - - - - - - - - - - Post #471
Shaved 14 Bolt Ready for Install - - - - - - - - Post #476
14 Bolt Brake Lines - - - - - - - - - - - - - - - - - - Post #480
Pro Rock 60 Front 8 Lug Hub Conversion - Post #495
Laser Alignment - - - - - - - - - - - - - - - - - - - - Post #505
Cutting Parking Brake Cables - - - - - - - - - - Post #506
Tire Carrier Modification - - - - - - - - - - - - - Post #511
14 Bolt First Drive - - - - - - - - - - - - - - - - - - - Post #530
Midland MXT 275 Install - - - - - - - - - - - - - - Post #534
Cutting Parking Brake Project - - - - - - - - - Post #540
Tuffy Underseat Storage Box - - - - - - - - - - Post #560
Rampage Frameless Top - - - - - - - - - - - - - Post #561
Tailgate Repair - - - - - - - - - - - - - - - - - - - - Post #565
Moab 2021 - TJ Fest - - - - - - - - - - - - - - - - - Post #611
Trailer Roadside Repair - - - - - - - - - - - - - - Post #620
Trailer Suspension Repair - - - - - - - - - - - - Post #634
Moab 2021 GoPro Video - - - - - - - - - - - - - Post #658
Colorado Backcountry Trip - - - - - - - - - - - Post #758
Hydro Steering Mount Repair - - - - - - - - - Post #805
Northeast BDR ADV Motor Trip - - - - - - - - Post #816
Door Surround Removal Mod - - - - - - - - - Post #821
Cage Mod for Rampage Top - - - - - - - - - - Post #840
VanLifeDesign Picture - - - - - - - - - - - - - - - - Post #850
392 Hemi Tune - Take 2 - - - - - - - - - - - - - - - Post #851
AFR Gauge Installation - - - - - - - - - - - - - - - Post #852
Laptop Desk for Data Logging - - - - - - - - - Post #873
Hawk Pride Off Road - September '21 - - - Post #879
AOP - September '21 - - - - - - - - - - - - - - - - Post #913
Driveshaft Carnage - - - - - - - - - - - - - - - - - Post #917
Top Repair - - - - - - - - - - - - - - - - - - - - - - - - Post #930
Antenna Replacement - Chrome No-Mo - Post #935
Trailer Tires - - - - - - - - - - - - - - - - - - - - - - - Post #940
Driveshaft - Beef Version for the Rear - - - Post #941
Higher Volume Radiator Fan Needed - - - - Post #961
Spal 500 Watt Brushless Fan Install - - - - - Post #971
Hidden USB Port - - - - - - - - - - - - - - - - - - - - Post #988
A/C Fan Override - - - - - - - - - - - - - - - - - - - - Post #1,028
Band Saw Upgrade - - - - - - - - - - - - - - - - - - - Post #1,042
The "Look at Me!" Wall - - - - - - - - - - - - - - - - Post #1,063
Amplifier - - - - - - - - - - - - - - - - - - - - - - - - - - - Post #1,087
LED Backup Lights from Claytone - - - - - - - - Post #1,213
Hawk Pride ORV Park 3-5-2022 - - - - - - - - - - Post #1,214
New 59 psi Fuel Pump for the Hemi - - - - - - Post #1,244
Trailer Tongue Weight - - - - - - - - - - - - - - - - - Post #1,294
Moab - TJ Fest 2022 - - - - - - - - - - - - - - - - - - - Post #1,305
Tool Rolls - Comparison and Selection- - - - - Post #1,366
PSC Steering Gear Replacement - - - - - - - - - Post # 1,387
PSC Steering Gear Replacement - Round 2 - Post # 1,418
Trailer Tongue Lock - - - - - - - - - - - - - - - - - - - Post # 1,434
Toy boxes for the Grandkids - - - - - - - - - - - - Post # 1,545
Hawk Pride December 2022- - - - - - - - - - - - - Post # 1,549
Trailer Tongue Lock Enhancement - - - - - - - Post # 1,555
Wide Band O2 Test and Replacement - - - - - Post # 1,571
Swing Out Tire Carrier Frame Tie-In Repair - Post # 1,582
Maxxis Razr Tire Warranty Replacement - - - Post # 1,601
Truck Hitch Pin Security Solution - - - - - - - - - Post # 1,672
Last edited: