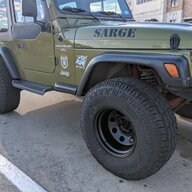 Joined

Jul 12, 2022
Messages

5
Location
1997 Jeep TJ 4.0 I6 with 225k miles

2 days ago, I go from a red light, cross the intersection and get up to 30mph, suddenly jeep completely shuts off. Engine off, Power off, Power steering gone. I coast to the nearest parking lot and pull in. Get it towed home and begin diagnosing.

When I turn the key, the starter is firing just fine, power is on, electrical seems good. I can hear the fuel pump in the back priming but engine will not start. Friend suggested I replace all the spark plugs. They have never been replaced by me so we decided to go ahead and replace all 6, replaced the distributor and rotor and cables. Also replaced cam shaft sensor while I was at it.

Engine still wont start. moved on to the next part this morning, replaced the ignition coil and ASD relay.

Engine still wont start. now I am at a loss, not sure where to go from here.

Any advice is appreciated.