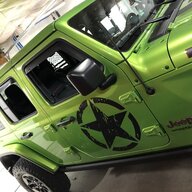 Joined

May 2, 2021
Messages

71
Location
So, I picked up a 2003 TJ Sahara Hard Top today with 163,000 miles. He was asking $8,500, I offered $7,000 on the spot and he took it...
Jeep has:
Never had the hard top removed.
Came with a brand new Soft Top (still in the box)
Has never been off road and the 4 wheel drive was only used to get up their driveway in the snow a few times over the years.
4.0 L Straight 6 engine
No rips/tears in cloth seats
has original radio and awesome sound system
Cold A/C
Known Issues:
Minor frame rust, taking it tomorrow to get a repair estimate
Code: P0122 - Throttle Position Sensor, Voltage Low
Code: P0456 - Evaporative Emission Leak Monitor Small Leak Detected
Rust Spot on fender, sand/paint door handles - Low Priority
Current owner had it since 2005 and his wife used it to commute to work, they weren't much into off-roading.
Wanting recommendations on size lift to put on it, and tires/wheels?
Was thinking 35's (maybe Rubi take-offs), don't want to spend a fortune on them as this will be our off-roading Jeep.
Any other recommendations?
Planning to put new bumpers and a winch on it at some point.