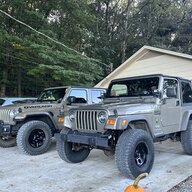 I just wanna go wheeling...
Supporting Member
Joined

Aug 23, 2020
Messages

1,285
Location
Drove home last night, and started getting brake burn smell on a couple mile descent, then a pull to the right when coming to a stop. No dragging or pulling for the first 20 minutes or so of driving, but hitting the stop and go at the top of the hill, after warming up fully, it starts dragging. Pulled into driveway (all highway after the traffic for 5 miles), and right front disk was smoking. Just replaced the master cyl, booster, pads/rotors/calipers a few years ago, have maybe 2500 miles on the new parts... rotors still look new. Jeep has 130K miles, and original lines. I'll dig further into it this weekend checking the caliper movement, but I'm fairly certain that it may be the soft lines collapsing internally... could also be the master cyl.

What are the recommendations for new lines? I do plan on a 3-4 inch lift and 33's within the next few months. Is it worth it to go with something like the KLM lines?