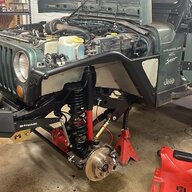 TJ Enthusiast
Supporting Member
Joined

Jan 24, 2023
Messages

264
Location
I plan to purchase a tilt bed trailer in the next week or two. My big debate, is whether I am going to be happy with the 7,000# steel H&H tilt bed. That is my cheapest option that I think would suit my needs, but I'm concerned that it is pushing the weight capacity a little too close with my jeep on it. I do not know the weight of my jeep, but I don't want to risk premature maintenance issues on the trailer if I can help it. Here are the options as I see it:

H&H 82"x20' Manual Tilt 7000# $5,490
H&H 20' Manual Tilt 14,000# $7,093
H&H 20' Gravity Tilt 14,000# $8,779 (IDK if this is the same as Manual tilt??)
H&H 22' Power Tilt 14,000# $8,634
H&H 16' Tilt + 6' Stationary 14,000# $8,983
H&H 22' Aluminum Power Tilt 9990# $9,971


All of the above are steel, except for the last option. I only just saw the trailer with the 6' stationary. I really like the looks of that one. I can think of a lot of practical uses for that stationary 6'.

What are you guys' thoughts?? Should I just go the cheapest route?