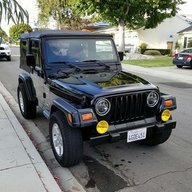 TJ Addict
Supporting Member
Joined

Dec 15, 2018
Messages

1,150
Location
I have not watched the entire video. But the first half spells it out pretty clearly. If you modded your exhaust in anyway you get an automatic $1000 ticket. No mods that aren't CA approved. And no mods to your exhaust beyond stock. If you get caught on the road it's an automatic $1000 ticket. (I'm saying that again. Because that pretty much kills it for anyone without a $1000 and enough money to bring their car back to stock. And you have to visit the state referee. If he finds any other mods on your car he can actually impound it and have it crushed. Not to mention the fines.) So if you didn't keep your stock exhaust. I'd head to the junkyard now. Cause there's gonna be a run on stock exhausts. And other parts you might customize.
Apparently this was brought about by deaths involved in street racing. So another blanket law. Meant to protect a few. But that penalizes everyone.
Others can probably shed more light on what this means exactly. But LE has a task force out working this. And handing out $1000 tickets. No more fix it tickets. I know my town already has a very aggressively enforced noise ordinance. So they'll take this and run with it too.
I'm so glad I'm moving. I don't have a custom exhaust. But they've already pretty much outlawed most guns. Except those on a list that they approve. Now it's cars.