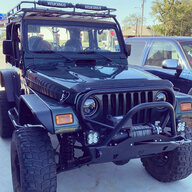 New Member
Supporting Member
Joined

Nov 20, 2020
Messages

6
Location
Howdy folks, proud to be here.
Bought my Jeep a few months ago and have loved every minute since.
My Jeep came with some pretty awesome upgrades: motor swap, long arm lift, and winch. I've been adding things here and there: bumpers, flares, lights, armor, and a new AX-15.
This forum has been a great resource to pull from as I make my way through the upgrades and I just want to say thank you.
By chance if anyone sees this from North West Louisiana hit me up I'd love to meet up and go wheeling.