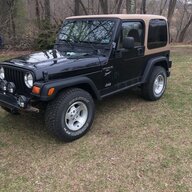 Joined

Mar 30, 2021
Messages

16
Location
Just picked up a "new to me" 99 TJ Sport. Had a 97 Sahara I sold in 2011 and missed it since.
195250 miles
4.0 Auto
Daughters fiancé got her a 2017 sport and she's been saying I needed to get another...told her "If I see a 4.0 with little rust (Pittsburgh) and Auto (tired of driving a stick) I'll check it out" knowing I'd not find one. 4 months later, there she was.
hard top, full doors, came with bimimi top, mirrors, KC lights, soft doors and a subwoofer box I already ripped out.
Last edited: