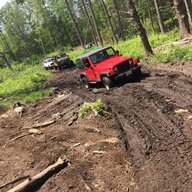 TJ Enthusiast
Supporting Member
Joined

Jun 22, 2022
Messages

127
Location
Hello from Central Mass. I have finally joined after watching from the shadows. And yes even from the shadows you all have helped me spend money.
Bought the Jeep in September 2018 as a replacement for my wife's Miata that was a 10 year anniversary gift in 2008. It was time for something that could be used year round, so why not a Jeep! She enjoys it very much except when I'm working on it doing some kind of modification.
Plans at the moment are to replace the stereo and speakers and I have a lot of questions that I will ask at some point. After that is getting rid of the 1" TC drop and new control arms which will probably have to wait until next year. Hopefully at some point rear gear (3.07's suck). The only time I can work on it is during the good weather and that's the time to use it. The joy's of living in New England two weeks of good weather and then it snows :-(
Attached are a couple of pic's because I know a post is useless without pictures.
Thanks for having me!