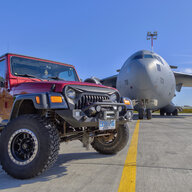 Joined

Apr 2, 2021
Messages

13
Location
Hi Folks,
I just joined on Friday, and just bought a 1998 TJ 4.0L.
First day out was to see if I could get to my hunt camp. No problem crossing a monster rock and a flowing creek.
Second day out, got my initiation into "stuck in the mud" scenario. Had to use my winch to get myself out. (luckily one of the other guys had a tree saver strap)
Learned a great lesson.... there are items that you do not want to leave home without (not mastercard), but rather a recovery kit and other tools
So, what's in your back country kit when you head out?
I have a bottle jack that has screw that you turn to jack up the vehicle. It did not come with a crank, so my question is:
What's the best field jack to pack when in the back country?
Jeep came with a hard top, a framed top and a frameless top. I've already read the pros and cons of using one vs the other and both as some do, so I'm guessing the hardest part seems to be the hard top storage when using the soft top, and/or worrying about noise and security.
Previous owner had a boom box in the back, but left the monster power cables, so I connected a 400w power inverter and mounted it in the back corner. This may power a coffee machine to sit and ponder on how I got stuck, and how the heck am I going to get outa here.
Anyway, thanks for hosting a great forum. Looking forward to getting expert advice