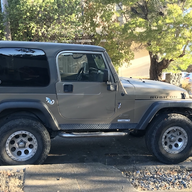 TJ Enthusiast
Supporting Member
Joined

Nov 7, 2020
Messages

193
Location
I just installed a new 195 degree thermostat. Previous owner had a 165 degree unit. I flushed the radiator, housing, etc, and refilled. As expected, "normal" operating temp is now up to about 210 where it was previously approx 190.

However —

I cant go more than a mile before the gauge jumps from 210 to 260. And when I say jump, I do mean jump. There is nothing gradual. It'll be 210 for 90% of the ride (traffic, with lights), and then instantly jump to 260 with the appropriate check gauges warning.

Im currently pulled over, without an infrared thermometer, to let it cool off. So all I have is the gauge to go by.

Thoughts? Faulty t-stat? Improperly installed t-stat? Faulty gauge? Other?