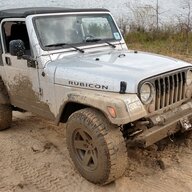 TJ Expert
Supporting Member
Joined

Aug 11, 2018
Messages

4,894
$500 or $1000 won't make anyone rich, but I'd rather have $1000 than $500.

I'd rather have the 4.0 than the 2.4 or 2.5, and just like the above money example, no one would rather have less. One can make do with less, but they don't prefer it.
Having the $1000 over the $500 has never happened by buying a TJ with a 4.0.