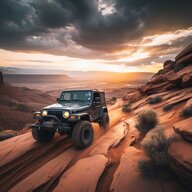 Going my own way
Supporting Member
Joined

Feb 28, 2017
Messages

4,935
Location
I'm going to attempt my first project with my new welder. Its a cart/Table (which is probably what about 90% of guys who buy a new welder start with). I'll use some 1.5" sq tube I salvaged from a safety walkway that was torn down at work. 1/8" wall. Thought I'd post it up here for critique...I appreciate a lot of people's opinions here. What I'm looking for is some constructive criticism. I've never built a welding cart or table before. I've put a bit of thought into how I'd like this to work, and wanna see if I'm missing something. I'm incorporating a toolbox for storing "stuff" that I use on metalworking projects (its already got most of that stuff in it). Since my welder is multi-process, I have a few extra leads and will eventually get a TIG torch and pedal. There is room for an eventual plasma below.
The welder is on a shelf with drawer slides to allow for wire changes.
There are some details I've left off, as I really just wanted to nail down the concept and generate a cut list for tubing. I know I'll need a few hangers for cords and a place to put the torch when not in use. I'll probably install a magnetic strip for tools (slag hammer and pliers) and weld on a rail to hang my grinders. Also need a couple anchor points for the bottle.
Still have some questions on the table top...Do I try to find a piece of half inch steel somewhere, or do I take a high pressure laminate desk top, then wrap it with sheetmetal?
Oh, and one more favor...I'll probably post a few pics of my welds for pointers...I've done some welding, but I'm no expert by any means.