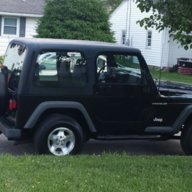 Joined

Mar 14, 2019
Messages

18
Location
Well, here I am newbie number XXXXX...
I am a proud owner of a TJ Wrangler. I've always wanted to own a Wrangler and a couple of years ago I got a call from local Jeep dealer saying they found me one. I know some folks that work there so they were keeping an eye out. It's a 2002 plain jane but I figured that just meant it was a blank canvas that I could mold into whatever I decided I would want.
I am NOT a Jeep guru. I just like their looks and wanted one so I could go off road once in a while and ride around topless when the weather is nice.
Last year, the jeep developed a pretty heavy shimmy and after some research, I found out that it was a Death Wobble. The repairs that were suggested were the track bar and steering stabilizer. So, I crawled under the jeep to see what was what. Ummmm... RUST city!
I was concerned with what I saw and took some pics of what I was seeing. I had no clue what I was taking pictures of except the track bar and stabilizer. All I knew is that it looks bad.
I kinda gave up on driving it because of the rust underneath, plus it developed an exhaust leak which was fixed yesterday so now I'm getting the itch to get back out there. It didn't help matters that today it was sunny and in the 70's here so it was a good Jeep day!
My plan has been to:
remove any flaky rust
use a rust to phosphate product
POR-15
Urethane top coat
I own the Jeep now so I can't just dump it and run. I want to keep it so I need some advice. I have attached the pics I took the day I was looking at the track bar. If they tell the tale, good. If I need to take some more pics of specific locations I can do that.
The other option is finding a non rust frame and replace it. That is out of my skill set by a country mile so if that is the route I need to go I will have to pay my local mechanic to do it I suppose.
By the way, the track bar and steering stabilizer have been replaced and there is no more death wobble. Just rust...
Any advice (aside from the dump & run/I'd never own that piece of junk type stuff) is much appreciated...