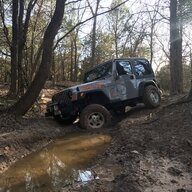 TJ Addict
Supporting Member
Joined

Feb 26, 2020
Messages

1,281
Location
Alright guys, I'm a little stumped, yesterday, after a short trip up to school the Jeeps climate control decided to take a hike. Had the A/C running the whole way up, but after sitting for about 2 hours, it was broken for the trip back and has stayed broken since.
so to classify broken: no blower motor on any setting, fan or position selector. A/C compressor does not engage in any setting (used to see it spinning when the engine was on, now no matter where you put the positional selector the compressor won't engage) I think I can still hear the vacuum assisted doors closing and opening when I move the position switch, but it's hard to tell.
background: been fighting this A/C system for a while, it has a small leak that I am idly looking for (mostly just feeding it Freon every 4-5 months) I just replaced the fan speed switch about a month ago with a duralast untit (not OE, but it was available) When I replaced the fan speed switch the compressor would engage but the blower wouldn't run. When it needs Freon A: the A/C sucks. And B: the compressor is either off or cycles quickly, while the blower functions normally.
what I have done so far: checked all of the highlighted fuses/ relays by swapping them into known functioning systems and testing (broke the green HVAC one testing it, electrically it's fine, but I plan to get a new one shortly)
Checked the blower motor resistor, looks normal.
also went ahead and replaced the 10amp HVAC fuse behind the glove box, though it tested ok.
blower motor Dosent run when heat is on either
cleared the computer for giggles (didint really think it would work but mind as well try)
any ideas? I've got a trip coming up this weekend and I would really Like A/C