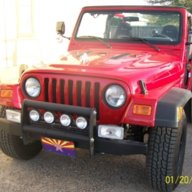 Joined

Jan 26, 2017
Messages

1,279
Location
Ahhhhhh

I have to head out for work but will return later to work on my Jeep. I ordered those parts just in case, I don't know why I keep thinking it's the ignition switch. I really don't know what to look for the cables look good I don't see major corrosion anywhere. I'm going to grab some new terminals and throw them on I think the ones on there now are crap. What exactly am I looking for when you say a bad ground. Sorry brother but I got no idea. I have attached some pics.
Follow the cables from the negative terminal of the battery to where they mount to the body or chassis. Remove the fasteners and CLEAN everything up. Corrosion may not appear bad, but it doesn't have to be bad to interfere with electrical flow.
If it was just the ignition switch, the lights and such would work. If you insist on throwing parts at it, you might want to look into a new set of cables.