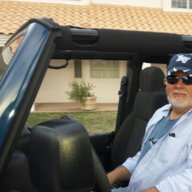 TJ Enthusiast
Supporting Member
I bought their 2000 amp version to keep on my boat. I haven't these mentioned here for offroading. Supposedly has enough power to start multiple V8's in a tiny package. Has USB, accessory plug, and multi function light. I was skeptical.
Yesterday I needed it to jump my Escalade. It recharged my dead battery enough to work the electronics in about 5 minutes then spun the engine as fast as the main battery. Started quickly and the Noco still showed 100% reserve power.
This small light unit seems perfect for offroading. Tons of uses besides a helping someone who left their lights on when cables won't reach. Now a permanent part of my recovery pack.
Sorry if this thread is redundant.
Lee - 2005 TJ 4.0 Auto - Las Vegas