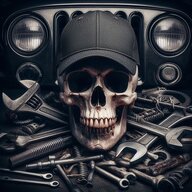 TJFest June Edition 2023
Supporting Member
Ride of the Month Winner
Joined

Jan 17, 2020
Messages

20,176
Location
Too funny to be hidden in the political forum - Video in story link below.
Holy political favors, Batman! That's the allegation against San Mateo County Sheriff Carlos Bolanos for
sending a four-man team across the country last week, to raid the garage that builds Batmobiles
.
Turns out,
one of the sheriff's friends ordered a Batmobile and wasn't happy with how long it's taking
.
Your public money paid for the trip last week by the sheriff's investigators - four round-trip plane tickets, three nights of hotels, meals, rental cars, and a lot of overtime.

...
Owner Mark Racop has nine Batmobiles in production. He tells us Anagnostou was first in line, but missed a $20,000 payment: "And he disappeared on me for over eight months, almost nine months."
Racop moved Anagnostou to the bottom of the list; he'd have to wait a year and a half or two for his Batmobile.
Racop says, "He didn't like that, he exploded. He did pay off the entire car at that point, but he was absolutely livid to find out that his car was going to be delayed."
...
Mark Racop tells us, "Then, they showed the warrant saying that they were here to seize anything to do with his car. So I thought, 'Oh, they're coming in to pick up his car,' which is right behind me, by the way. I thought I was gonna have to move my other Batmobiles out of the way to be able to let them take this car."
But investigators took only two files of documents, according to the Search Warrant Return. Racop says they read his Miranda Rights, brought him to the local jail for an hour, but let him go. He only later found out they got a warrant for his Gmail, contacts and photos; that they froze his bank account; and charged him in California with two felonies — Obtaining Money by False Pretenses, and Diversion of Construction Funds.
"I was horrified. I've never gone through anything like this ever before in my life, I am on the side of good. As a Batman fan since I was 2 years old, this was a completely opposite side. I love '66 Batman and Batman always stood with the law."
..
https://abc7news.com/batmobile-raid...freaks-of-logansport-factory-raided/12083955/
Last edited: