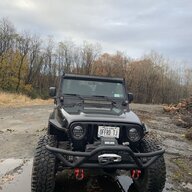 Joined

Nov 10, 2019
Messages

33
Location
I started to remove the transmission on my 06 TJ to get the clutch job done. I am almost done removing most of the bolts, including unplugging wiring plus. The only thing remaining is removing the top crank sensor and the couple of bolts for bell housing.

I would like to get some information on removing the gear shifter boot. I removed the gear lever/handle which was pretty easy job, just had to use a T55 torque socket, but I think I also need to remove the boot. In the older TJs they have the push and turn it anti-clockwise mechanism which releases the boot. Is it the same for 06 TJ? I think I need to release the gear boot from the transmission to remove the transmission, otherwise will be difficult to remove the transmission. Is that right? I tried removing the gear shifter base cover which has a bunch of 10mm bolts, except 2-8mm near the 4WD/4LO/HI shifter, but if it is not needed then I don't want to create additional work. I already noticed the 10mm bolts have started spinning and not coming out easily.

Also, on a 06 TJ do we have a E-21 (bolts) at the top section of bell housing? I also noticed the crank sensor has only one bolt? but the older TJs had two bolts for it.

My transfer case outside is full of gunk, looks like it is leaking fluid. Not sure why and from where. Any suggestions?

Thank you!