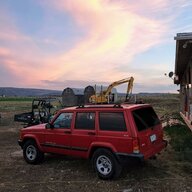 Joined

Aug 12, 2022
Messages

5
Location
I've had 3 different orders for a Mopar crank sensor canceled due to back order. Finally got one off of eBay but item was first ordered from a distributor so stock could be hit or miss. As someone mentioned, mopar does appear to be making these again.
Is there a particular part number I'm looking for? I was looking for 56027865AB, but there seem to be others which are compatible for my '99 Cherokee. Sorry, wrong forum. It looks like this part is compatible among a range of years, just not sure where/how to find that and confirm
EDIT: eBay has a used one for $55 and Napa has a Standard Ignition part I decided to go with while I wait for the local Jeep dealership to get a Mopar in on backorder. Fingers crossed. Need a reliable vehicle otherwise, I would have waited for the backordered part to arrive. Thanks for your help. I'm feeling good about the aftermarket NTK CPS being junk.
Last edited: