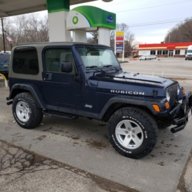 TJ Addict
Supporting Member
Joined

Jan 17, 2018
Messages

1,059
Location
Drove the Jeep to the grocery store. Got there just fine. Came out and turned the key and the Jeep had a hard time turning over. Finally started and I had no reading on either the oil temp or coolant temp gauges and the "check gauges" light came on.

Turned it off and got out for a walk-around. No fluids on the ground and none leading up to the parking spot. So I got in and tried again. This time it took off and the gauges were back to normal.

Drove it home and parked in the driveway. Got out I could hear what sounded like bubbling. Again, no drips or anything on the ground. No oil leaks or anything.

Got back in and started it and she took right off again. Just that one instance.

Thoughts?