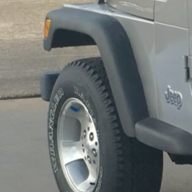 Joined

Nov 17, 2020
Messages

1,564
Location
My only light of hope is that these wheels were offered stock on our TJ, so why they should have any negative impact on suspension, sorry my knowledge in this area is almost nonexistent 😀.
Those wheels were only offered with 205-75-15 tires. The offset on those wheels is designed for that specific tire height. If you went up to factory 225-75-15 tire, those would come with different wheels with a little less offset, to keep the steering geometry in spec. Then if you went up to 30-9.50-15, those came with yet a different set of wheel and a little less offset than the other ones. Rubicon came out and same thing, taller tires, they had to spec new wheels with less offset.
So, yes they did come from factory but they came from factory with 27" tall wheels. If you run 27" tall tires on those wheels, you will be golden. If you run a taller tire with those wheels, the steering geometry will not be optimal - maybe you will be able to notice, maybe not. Can't say for sure. The taller the tire, the less offset you need to maintain the optimal steering geometry.
Here is a photo I screenshot that shows an example. If you draw a line (red) through the upper and lower ball joints, that is your steering pivot axis. Now look where the center of the tire contact patch is on the road (blue arrow). Imagine the force it applies to the steering when you hit a bump with all that leverage acting on the steering angle. You situation of trying to run those 15x6 stock rims would be similar but opposite...tires tucked too far inside the steering axis.