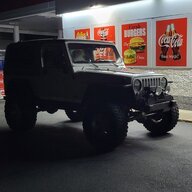 TJ Enthusiast
Supporting Member
Joined

Feb 13, 2020
Messages

900
Location
There are 3 new drivers this year and we are seeing a transitionto the younger generation finally with Max winning championships, Charles challening and Russell beating Lewis.
Sargent is American too but in a Williams. His time was spot on with Albon though.
I would love to see Kyle Busch in a Formula One car, I believe he would surprise some people.
That would be cool. He would need a lot training though. I think the biggest things when drivers from other series do a stint in an f1 car is the neck forces due to the g forces the car pull in the corners.
I'm excited for the race tomorrow to see what Alonso can do and to see if any of the car manufacturers can challenge an energy drink company.