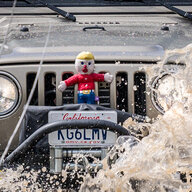 Raconteur Emeritus
Supporting Member
Joined

Nov 24, 2017
Messages

3,897
Location
I'm running the Tomkin that can be found here:


I like how the front attaches via a crossmember that attaches to the frame. It has taken many direct hits and keeps on rocking. The skid row is nice as well.

Sure, I'll do so tonight. The front is really the only interesting part. The rear just attaches with 2 bolts on the transfer case skid. I've run it on the stock skid and now a Barnes bolt on skid. I'll take pics of both though.
Thanks.
Where the rear attaches interests me because I do not have a stock crossmember and want to figure out whether it will be an easy install or whether I'm going to have to modify something. Pictures of the front attachment points and the area around the exhaust will also be interesting to me because my exhaust is not stock from the engine back and it would be a real drag to buy one of these and have interference issues.
Right now I'm leaning toward a UCF aluminum skid for less weight, but I've used Tomken products on CJ's with great success and try to patronize the "OG" aftermarket jeep parts suppliers when I can.
Do you think a Fumoto or similar oil pan drain valve would fit between the oil pan and the Tomken skid?