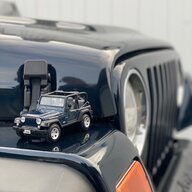 Joined

Apr 24, 2021
Messages

42
Location
As I've posted on here before, I'm down a rabbit hole searching for a high charging alternator. Changed, PCM, Big 7 cable upgrade and a reman alternator — voltage still reads 14.8. But wait theres more!!!!!!!!! When doing the big 7 upgrade, I decided to look under my PCD and it looks like the PO did some funny wiring, which I undid while I was there to turn it back to stock. Not an electrical genius but I do know how to solder.
I wonder if undoing what the PO did is why, I am now having a crank but no start issue,
intermittently
— like I can crank it forever without turning over. Key word "
intermittently
"
Any ideas as to what he was trying to do? and if it relates to my problem?
. — Red X is where the wire is cut, green line is where new wire is tapped/added
Also attached as PDF if its easier to read than the image