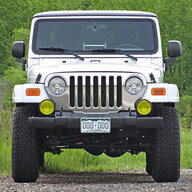 TJ Enthusiast
Supporting Member
Joined

Sep 19, 2021
Messages

365
Location
I had a 1974 CJ5 back in the early '80s, used for wheeling in the Colorado mountains. When the family came along, I switched to something a little bigger. In recent years I've had a series of 4WD pickups, most recently a couple of first-generation Tacomas. But I have wanted another "real Jeep" for a long time.
I looked for a TJ Unlimited for several years, but in Denver they always seem to sell to the first person who shows up, which wasn't me. In June 2021 I found this one in Durango Colorado, 6 hours away from home. It was far enough from the big city that there wasn't a crowd trying to buy it. It had all of the exact options I had been looking for (6-speed, cruise, original radio, A/C, hardtop, not lifted, 15" wheels, trailer hitch, low-ish miles). And it had good 31" tires. And it was silver, one of the colors on my "acceptable" list. My wife and I drove there, bought it, and drove back home, 650 miles and 14+ hours in one day. In the dark, on the way home, I chose my first mod: headlights. A pair of cheap flashlights taped to the hood would have been brighter.
It's a 2005 Wrangler Unlimited, with 98K miles on the clock, in excellent shape, completely stock except for 31-inch tires. The body is in great condition, no dents, just a few scuffs and scratches and paint chips on the forward surfaces. The interior is excellent.
I removed the rear seat. Now I call it my 2-seat 6-speed Mercedes sports convertible (well, the tranny and steering box were built by Mercedes).