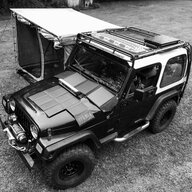 Joined

Oct 31, 2018
Messages

520
Location
My issue is less of an issue for a TJ, but I was reading my ARB compressor manual, which wasn't all in one sitting because I won't be able to stay awake. I noticed it seemed to want you to run your compressor near the locker(s) and near the battery. Not a big issue for a TJ, but the installation I was going to do on my truck, this is a pretty big difference for a long bed quad cab 3/4 ton truck.

You all probably have more experience with on-board air and compressors, so I was wanting to see what the general preferences are for these installations. Would you rather run more air line from your compressor to locker or more and over-sized wiring from your compressor to battery?

Some additional info that sway my preferences are:
-line for the truck would have to cross the exhaust, though obviously this can be secured, but it's a much more complex routing job, whereas wire is pretty easy to work with.

-fitment is much easier in the bed area

-I will likely be running an aux battery in the rear, so in theory I could get power close to the compressor, but the controls would be in the cab, so this likely wouldn't be of much benefit.

-There may be other wires that need to be extended, which may sway me back to mounting the compressor in the engine bay

-I don't plan to add a front locker

Some areas I'm curious about is that, I don't see a way to dry the air, but are the small CFMs a non-factor for moisture in a differential? Would going with a larger gauge wire for the extension really be noticeable for an air locker situation with occasional air refills?