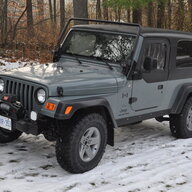 TJ Addict
Supporting Member
Joined

Dec 25, 2016
Messages

1,986
Location
My folks had a red MGA, with the rare hardtop. Half the time in the morning, it wouldn't start. My mother would roll it down the driveway, and pop the clutch in 2nd. That would get it running about half of those times. The rest of the time, she'd dog it over to the side at the bottom of the driveway and we'd walk back up and take the truck. Dad would get home from work, "do something" under the hood and drive it back to the top.
I hope you never had to use the factory supplied crank that was clipped to the bulkhead behind the seats. They came in handy for doing tune ups but I can't say I ever used one for what it was intended.
As for red, I worked next to a BMC later British Leyland dealership and was told the dealers could not get enough red cars. It was what most buyers wanted. He said they would take new cars, mostly white and many "Alamo Beige" cars which no one wanted and paint them red before they were sold. They went for a slight discount and looked awful because they were basically an external spray - door jambs were done but not under the hood or in the trunk. I thought he was kidding but he showed me a few when they were in for service.