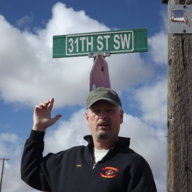 Joined

Nov 15, 2016
Messages

321
Location
My wife and I just returned from a 3-day trip to southern Colorado, basing out of Ouray. We hit Black Bear Pass and Imogene Pass the first day, Yankee Boy Basin, Corkscrew Gulch and Engineer Pass the second day and used the third day to chill out in Ouray. The trails were lots of fun, although we noticed many areas of avalanche damage due to the massive amount of snow over the last winter. Many creeks were still full of debris and parts of several trails had been cleared after slides ran over them. We wanted to do Pougkeepsie Gulch, but it was closed due to avalanche debris, with no dates given for reopening the trail. I doubt that they will get it open before the next snowfall.
Stopping at the beginning of the Black Bear Pass trail to air down. Adventure awaits...
Plenty of snow left over from the winter. Several snow bridges across creeks on the side trails looked very inviting until you took a look underneath. It wouldn't be hard to break through halfway across, and then you'd have to winch or dig your way out.
Poser shot on the downhill side of the pass.
The top of the switchbacks on Black Bear Pass. Don't worry, my wife was taking the photos - she just leaned over and shot from in front of me for a driver's POV look. This shot clearly shows what the driver is looking at while descending the switchbacks, although it doesn't show the road to either side. It's not really as bad as it looks.
Headed up to Imogene Pass on the Tomboy Road. Weather was beginning to get interesting.
Made it before the storms rolled in. Now we just have to get down off this exposed ground...
Deceptively easy-looking water crossing. If you didn't look carefully you'd drive right into a hole that would easily swallow a 33" tire, and I watched several folks do just that. It pays to let the other guys go first.
Got out just in time. The lightning began a few minutes later.
Day 2. Started with Yankee Boy Basin, basically a trail that goes straight up until it stops way up there above the treeline. Spent a lot of time in 4 Low just grinding our way uphill.
Lots of snow, so lots of snowmelt. There were waterfalls everywhere, still running strong this late in the season.
Moving on to Corkscrew Gulch, the avalanche damage became even worse. Part of the trail was cut right through a slide area. Downed trees and choked creeks were common sights.
One more poser shot. The beauty of this area is just breathtaking - adding a Jeep to the shot just makes it better.
My wife took this shot. She felt that it pretty much told the whole story of our trip. As usual, she was right.
Last edited: