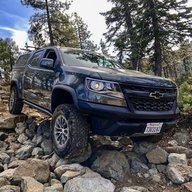 LJR Addict
Supporting Member
Ride of the Month Winner
So recently I sold my TJ to start an LJR. The TJ for me was becoming a space struggle early on before I even really tested it out on a longer trip. I discovered on the type of trips I enjoy doing, the stuff I take, the room my pups takes up, and as my only vehicle, space was a necessity.
I started scouring the country looking for clean LJ's without any rust. I wanted a unique color I liked or black, as I figured black will be the easiest to repaint in the future. I found a LJR in good shape in Boone, NC with 29630 miles, and bought it sight unseen after getting it looked at by Rubitrux. I managed to buy the hardtop from Rubitrux also, which I am glad I did, they are becoming very hard to find and living in the city I knew I wanted one.
My old Jeep sold within two days of being available, I transferred over the things that made sense.
For this LJR I mainly want to use it to explore, I love camping and backpacking and getting to cool spots which you can only get to in an offroad vehicle is gratifying. That being said, I think a LJR really only looks good with 4" of lift and 35s, so thats what I'm building towards. The LJR has to have great road manners, as just the reality of the situation is a lot of places I'll be going, even when offroad is involved, will involve a lot of driving.
April 2019 is a Moab trip where I'll be driving over.
The day she came in off the transport truck, it currently has a 4" SkyJacker lift, Bilstein Shocks, dropped pitman arm, Currie Currectlync steering, Dropped Transfercase, 33" Nitto Grapplers on 16" Moabs.
Alex and I spent a good two hours checking it out just to see what I had, it was very stressful buying it sight unseen but I am happy with what I have. It's suspension is a mess and needs replacing but it has a currie currentlync which was some cost savings and the winch is staying. The trucklights which were on the LJR were swapped to the TJ but it was good that I sold the TJ with good headlights - I am not in the business of selling someone a POS. It had a banks air intake which makes me smogging it a nightmare, but all well it can be replaced.
The Jeep also had pretty deep front window tints which we removed, lots of stickers (also removed), a bunch of random cables for amps/subwoofers (yep removed), rear milkjugs (you get the picture). The adhesive from the tint took forever to remove. Before long it didn't look to bad.
Some other maintenance items, the radio didn't work (resoldered the cables, now it works), the parking brake doesn't hold (needs further investigation, tried tightening to no luck), and blower doesn't work at one or two (need to order the part) but all in all a good LJ.
The Jeep had no carpet, but it did have weather tech for the front. As a result the floor was a bit scuffed up and had some raw metal exposed (no rust though). I sanded it down, cleaned and painted. Alex still had his old carpet so put that in and it looks a lot better. Also, we moved my vision x over and they really are amazing headlights.
I got a temporary registration from the DMV so I was able to drive it home. It drove as you'd expect with the low-quality parts. The TJ sure drove on the highway a lot nicer. Can't wait to get to work.
Last edited: