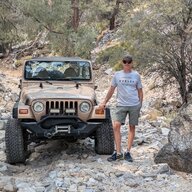 TJ Enthusiast
Supporting Member
Joined

Sep 19, 2022
Messages

426
Location
Good afternoon all, looking for some help/advice. Over the last 2 months I've been working on a timing chain and distributor replacement. Anyway, I finished that job last weekend and the Jeep fired right up and had been running smooth all week until yesterday.

Yesterday I noticed coolant on the ground around the passenger side of the Jeep, I opened the hood and it looked like coolant had been blown around the engine bay on the passenger side, and I believe the source was the heater core hose which I noticed had the constant tension hose clamp where it meets the water pump was not in place. I put the clamp in place and drove it a short distance last night and Jeep seemed to run normal.

This morning I went back out and saw more coolant on the ground and in the engine bay, I started it and got a CEL code p0118. I opened the radiator cap and the radiator was low on coolant so I topped it off and drove it around the block. The engine ran very low on power, kind of surging a couple of times under throttle so I limped it back home. I left it running and opened the hood looking for more coolant leaking and didn't see anything. But the motor sounds a little rough and seems to be running rich at the tail pipe, with a bit of visible smoke from the exhaust.

Any thoughts on what is causing the p0118 code and if it likely related to the engine running low on power?